In the realm of Hindi poetry, 'Dhokebaaz Dost Shayari' stands out, evoking the raw emotions of betrayal and lost friendships. These verses, rich in cultural nuance and linguistic beauty, offer readers a deep dive into the poignant world of deceitful friendships. Through each line and every word, experience the heartache and melancholy associated with the pain of trust broken. As poetry remains an enduring medium for expression, the 'Dhokebaaz Dost Shayari' provides a therapeutic outlet for those grappling with the complexities of human relationships."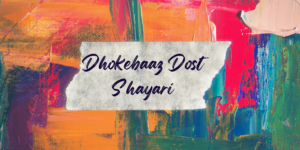 Heartfelt Verses: The Essence of Dhokebaaz Dost Shayari
Dosti thi aapki anmol, par aap ho gaye dhokebaaz,
Once trusted, ab trust hai lost, dost.
Aankhon mein innocence, dil mein kitne raaz,
Dhokebaaz dost, you broke the saath.
Promises ke dher saare, par wo sabhi were fake,
In your game of deceit, mera dil you did break.
Beside me you stood, par peeth peeche you did talk,
Trust ka game, with your lies you did mock.
Kabhi saath, ab aap door,
Dhokebaaz dost, my heart feels so poor.
Har secret share kiya, par aap turned out to be the leak,
In this tale of betrayal, mera trust hai weak.
Smiles ke peeche, kitne hidden tales,
With every lie, our dosti fails.
Friendship ki thi story, par aap brought the twist,
Dhokebaaz dost, in memories you'll be missed.
Har pal you pretended, har moment ek act,
Your deceit's impact, it's a cold hard fact.
Hand in hand, hum chale the saath,
But with your betrayal, toot gayi dosti ki raah.
Har laughter ke peeche, aapne chhupaya ek knife,
With every secret, you cut my life.
True colors dikhaye, jab trust was on the line,
Dhokebaaz dost, no longer you're mine.
Kitne promises kiye, but all were in vain,
Your lies and games, gave nothing but pain.
By my side you stood, but dil mein was a plot,
Trusting you, was my biggest fault.
Secrets shared, stories sunaye,
Par with every tale, trust began to decay.
Dosti ka bond was so pure and deep,
Par with your deceit, it's hard to keep.
Ek time tha, jab you were my pride,
Now in the shadows of betrayal, your true self does hide.
Called you dost, par you turned out to be a foe,
Dhokebaaz dost, why did you stoop so low?
Saath mein moments, ab seem so fake,
Your every action, makes my heart ache.
Journey thi of trust, par you brought the bends,
With every turn, dosti meets its ends.
Life mein, you were a bright ray,
But with your deceit, that light did sway.
Stories sunaye, together we made,
Par with your lies, those memories fade.
Har moment ek new plot, every time a new play,
Dhokebaaz dost, why lead me astray?
More Content :
Kitni stories, kitni tales we've spun,
But with your deceit, everything's undone.
Dosti ka promise, you broke with ease,
With your acts, trust feels like a disease.
The Emotional Resonance of Betrayed Friendships in Hindi Poetry
Friendship ka bond, once strong and tight,
But with your lies, it's out of sight.
Dosti thi a journey, a beautiful ride,
But with your deceit, trust did slide.
Every secret, every whisper, shared between us two,
Par with your betrayal, trust feels so few.
Saath chale the, through thick and thin,
Dhokebaaz dost, with deceit you did win.
From trust to betrayal, kaise badal gaye scenes,
With your actions, toot gaye all dreams.
Life ki journey, you made it a maze,
With your deceitful ways, dosti is in a daze.
Har tale, har story with you seemed so right,
Par with your lies, trust went out of sight.
Moments shared, laughs kiye the humne saath,
Par your deceit, broke that beautiful path.
Dosti ka bond, it was so profound,
But with your betrayal, no trust is found.
Hand in hand, hum walked the miles,
Par with your deceit, lost are those smiles.
Saath ka promise, you broke with flair,
Dhokebaaz dost, left me in despair.
Stories spun, tales kiye share,
But with your lies, nothing seems fair.
Dosti was a bond, a pact so tight,
Par with your deceit, it lost its light.
Secrets shared, trust ki thi vow,
Dhokebaaz dost, where are you now?
In the tale of us, you brought the twist and shout,
With your betrayal, trust is now in doubt.